Mission: To evenly scaffold all bifurcations regardless of angles,
sizes or plaque location in a simple procedure.
Advanced Bifurcation Systems® has disruptive technology for left main heart disease, stenting coronary arteries at their branch points. This platform is a paradigm shift in interventional cardiology.
The ABS® platform is protected by more than 36 issued and 12 pending patents and will become the "standard of care" in the $2.5 billion global bifurcations market.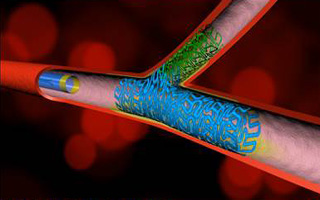 Every year millions of patients around the world with heart disease present to doctors who find they are faced with either a Percutaneous Coronary Intervention (PCI) or Coronary Artery Bypass Grafting (CABG). Advanced Bifurcation Systems ™ or ABS wants to transform the open heart surgery.
A quarter of those requiring stenting will have bifurcation lesions, meaning a build-up of plaque that is blocking or about to block blood flow to the heart at a place where the blood vessel divides in two. That condition, until now, has had no best practice solution. Interventional cardiologists have used a variety of procedures that are all, to put it kindly, "adapted" from the world of conventional straight vessel stenting using techniques that are risky, tedious, complicated and are likely to lead to poor clinical outcomes.
ABS™ has a system in development that has the potential to transform stenting practice for coronary bifurcation lesions and represents an opportunity to become the standard of best practice in PCI for these lesions in the years ahead. It even represents an opportunity to introduce PCI to many more left main artery procedures. Cardiologists will recognize the ABS system immediately as easy to use and will note how simple it is to avoid the positioning and mechanical problems they experience during the PCI procedures they use now. Our system will reduce risk, improve clinical outcomes, save procedure time, cut recovery time and reduce cost.